Decorate your windows with fun Faux Roman Shades! Using our cute fabric, your possibilities are endless! Our tutorial is easy to follow and quick to complete. Use them for the living room, kitchen, bedroom, laundry room, anywhere in your home!
---
Hi again! I am Danielle, from Blissful and Domestic. Last time I was here I showed you how to make a gathered pencil skirt.
Today I decided to take my sewing skills into the dining area. I have been seeing all sorts of tutorials for Faux Roman Shades on Pinterest. They all seemed so simple and perfect for my little home.
I started out with 7 yards of Alpine Wonderland Green Berry by Riley Blake. We have a bay window in our dinning area, which drastically needed new curtains. I had temporarily put up green ones, but they needed a little something more. They also were a little too thin on their own. I wanted the curtains to have a blackout effect at night. I took the original green curtains and used them as the backing for my curtains.
~ How to Make Faux Roman Shades ~
Each of my windows are 39 inches wide and 62 inches long. In the summer we have a swamp cooler in the middle window, but that is removed during the winter months.
To start out each curtain, I laid out my backing fabric (my original green curtain). I cut enough Riley Blake Fabric to overlap that green fabric. Measure your windows to the size you need and cut accordingly. If you are using the backing, go to the next step. Otherwise make sure to finish your edges.
I took both of my fabrics and placed them right sides together. I then pinned and sewed them together. This is the same technique you use when making pillow covers.
When I sewed it, I made it so my opening would be at the top. This opening is to pull your fabric through.
Having it at the top allows you to hide that opening, when sewing the casing for the curtain rod.
I then right sided out my fabric. I used the tip of my scissors to push out all of my corners. This is an easy way to make sure that your corners look pointy and not rounded.
Once that is done, you can make your casing. I made my casing about 2 inches wide. Just fold over your fabric, pin, and sew. I used suspension rods for my curtains. I purchased them at Wal-Mart for just a few dollars each.
Next I added my ribbon. I used White Grosgrain Ribbon 7/8″. I used four 39 in. strips on each curtain. Two in the front and two in the back. Each curtain is 39 inches wide. I placed my ribbons an equal distance from each other. You want to make sure that your ribbons are an equal distance apart.
Pin your ribbon and then measure again. Trust me you want to make sure that not only is your ribbon an equal distance apart, but that they go straight down your curtain. When I pinned my first one, it was a bit wonky. I was glad I double checked before sewing. When you sew your ribbon, only sew a part of the way down. You want to leave enough ribbon unsewn. This section of your ribbon allows you to tie your curtain up, creating the faux roman shade.
When you have sewn both of your front ribbons, move onto the back. The back is pretty easy. Just follow your sewn lines.
Once all your ribbons are sewn into place, you are finished.
I rolled up the bottom of my shade and then used my ribbon to hold it in place.
I love the way they turned out. They really finish off our dinning area.
Thanks so much for having me and letting me share a simple tutorial with you today. Over at Blissful and Domestic I love to share how my family lives on $14,000 a year, how we meal plan, and cut our groceries in half. I also love to share crafty/sewing tutorials, home-school activities, and recipes. I would love for you to stop by and say hi. I love meeting new bloggy friends:)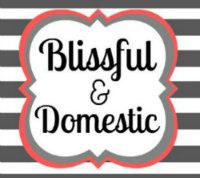 Follow me on Facebook Follow me on Twitter Browse my Pinterest
Follow me with BlogLovin Send Me an E-mail Link up at My Party.
---
Thanks Danielle!
This is a super easy project that can really make a difference in your home. The Ribbon Retreat carries a huge selection of fabric that you will fall in love with. Have fun browsing!
Check out Blissful and Domestic to see everything Danielle has to offer. Her blog is really great and what you can learn can make such a difference in life!
As always, if you're a craft blogger or bow maker who'd like to submit a tutorial of your own, visit our Project Submission Page to see all the details. We make it worth your while! We love our contributors!
Have a great day! ~ Shirley, The Ribbon Retreat Blog Editor