Yo ho! Yo ho! A pirate's life for me!
I am so excited to share my little pirates with you!
I love that my kids wanted to be pirates for Halloween this year.
If I had suggested a theme to them I would have been shut down immediately,
but since they came up with it on their own it was a brilliant idea!
I had so much fun making my kids' pirate costumes that I thought I'd spread the love and
share some tips I learned along the way.
Let's start with the infamous Captain Jack Sparrow.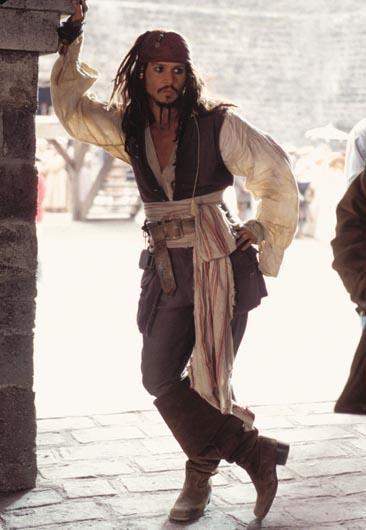 Now, the first thing you need for a Jack Sparrow costume is a wig.
Without the wig you're just a pirate.
I had originally planned on buying a wig but the cool ones were pretty pricey.
I don't like spending money on something that is going to be worn once and
then tossed in to the bottom of the dress up bin in a big tangled mess.
(Ok, rant over.)
I decided I would try making a wig myself, thinking that I could sit down and
spend an hour gluing yarn to a bandanna.
Not so.
After the amount of time I spent I might as well have just bought the pricey wig!
Don't get me wrong, I really love the way the wig turned out!
Just don't go in to this project thinking it will be quick and painless.
It takes some time.
In total I probably spent about 4 hours on the Jack Sparrow Wig Making Adventure.
Are you ready for it?
Jack Sparrow Wig
Supplies:
1/2 yard of fabric (I used Restorations Red Check)
2 skeins of 3 oz textured yarn (I used mink brown and cocoa Lion Brand Wool-Ease yarn)
Basic red yarn
Cream colored twine
Beads
Red thread
Needle
Scissors
Size Q Crochet Hook
Size I Crochet Hook
I started out with crocheting a circle base with my I hook using red yarn.
I worked double crochets all the way around.
If you are new to crocheting there are lots of helpful videos on youtube.
It's almost a hat, but not quite.
Try it on to make sure it fits.
Make it bigger or smaller if you need to.
With your large size Q crochet hook pull the middle of a length of yarn through the center of your circle.
Tie both sides of the yarn in a knot and begin making chains with your hook.
I chained between 25 to 30 chains and tied off in a knot when I reached the end.
Would you like to know how I measured my yarn?
It's quite a scientific method.
I'm 4'11" so hanging the yarn from my neck to the floor makes it about 9 feet.
Yes, I craft in my pajamas.
Continue tying and chaining the yarn in a line down the middle of the circle.
Tie and chain the yarn across the center of the circle and diagonally in a "spiderweb like design."
Continue around the circle.
This picture of the underside of the wig gives you a
better idea of the pattern I used in my yarn placement.
My pirate boy was asleep at this point so I used a plastic jack-o-lantern as a substitute for his noggin'.
Cut your red fabric in a circle slightly bigger then your crocheted circle.
Folding the edges under little by little secure the fabric circle
to the crochet circle with a simple whip stitch.
Continue stitching all the way around.
Measure your pirate's head and cut a strip of fabric long enough to wrap around his head.
Isaac's head is 22″. I cut my fabric 26″x8″ to ensure that it would fit around the yarn's added bulk.
With the jack-o-lantern as a model I wrapped the strip of fabric around the wig and sewed the fabric strip to the fabric circle. Be careful to hide your stitches.
Knot the fabric ends in the back and secure with a needle and thread.
Cut a small hole on top and pull a few "dreadlocks" through it.
Twist the remaining 1/2 yard of red fabric in to a loose knot and sew it down over the existing knot.
Sew down through the knot and back up a few times to secure it.
You may need a thimble and a strong needle for this step.
Using a yarn needle tie the twine around a "dreadlock".
Thread the beads on to the twine and knot between each bead.
Secure with a knot and weave in the ends of the twine with you needle.
Now your wig is ready for pirate trick-or-treating!
I think that Isaac could probably wear this wig with footie pajamas
and people would still know who he was!
To make it official your pirate will need :
a long sleeved white shirt,
a vest (look for a tutorial later this weekend)
brown or black pants,
a sash to tie around the waist (we used a dress up scarf),
boots,
and full make up,
complete with facial hair.
If your little Jack Sparrow is lucky enough to have a crew, you'll need to outfit them too.
Tutus are a must for a girly pirate!
To learn How to Make a Tutu click on the link.
These tutus are kind of a combination of Shirley's tulle tutu and Cherie's fabric tutu.
I used the following supplies for my tutus:
1 Spool Black Tulle
1 Spool Red Tulle
1 Spool White Tulle
1 Fat Quarter Riley Blake Pirates Black Skulls Fabric
1 Fat Quarter Riley Blake Pirates Black Stripes Fabric
1 Fat Quarter Dottie Christmas Red Fabric
Black 1/4″ Satin-Double Faced Ribbon
Red 1/4″ Satin-Double Faced Ribbon
Red Puntino Ribbon
Red 7/8″ Stripes Ribbon
Red with Black 3/8″ Swiss Dots Ribbon
1″ White Elastic
White Thread
Scissors
I used 3 layers of tulle for extra poof.
I've made lots of tutus in the past but this is the first time I've included ribbon and fabric.
I just love the way they turned out!
Your pretty little pirate will also need something warm to wear under her tutu,
a matching shirt and vest (again, look for tutorial later this weekend) and a bandanna to match.
So, tell me, ARRRR you getting excited for Halloween yet?
(Oh I couldn't resist!)
These beautiful photos were taken by my uber talented friend, Clarissa.
You can check out her website here:http://clarlawphotos.blogspot.com/2011/10/caught-ya.html