This Ruffled Halloween Wreath is one of a kind with beautiful ruffles winding around the wreath. Use any fabric for any holiday. Read more to see how to make one of your own!
---
Hi there! I am Danielle, from Blissful and Domestic. I am so glad to be here on The Ribbon Retreat again today. In the past I have showed you how to make a Ruffled Table Runner, Gathered Pencil Skirt and Faux Roman Shades.
Today I am sharing a simple tutorial on how to make a Ruffled Halloween Wreath.
~ Ruffled Halloween Wreath ~
Let's get started…
For fabric, I used one yard of Costume Clubhouse for Riley Blake from The Ribbon Retreat.
Click the link to see the other fun fabrics.
I just love that polka-dot fabric!
I also used a wire wreath form, 1 glitter spider, polka-dot scrapbook paper, wooden letters, and a scrap of burlap.
Most of these items I found in my craft stash.
I took my one yard of fabric and folded it in half. Then I folded it in half again, lengthwise (see picture above). Once I had my fabric folded, I cut down my fabric vertically. This created 3 different piles of fabric strips. My strip piles on the ends had folds in them. I cut down the folds, so all of my strips were separated. Don't worry if your cuts are not straight. You won't be able to tell once the wreath is finished.
Once your wreath is covered, you can start working on your ruffles.
You can use a ruffle foot or a basic running stitch. I used a running stitch. I just put my sewing machine on its widest basic stitch. Remember not to back stitch, when doing a running stitch. I used the rest of my strips for my ruffle. When I was coming to the end of a strip, I would overlap my next one (see picture above). This creates one continuous strip of fabric. Once you have finished your running stitch, pull your thread to create a ruffle.
Now you can begin to wrap your wreath. Either glue your ruffle in place or use pins.
Then I created my burlap ruffle by doing a basic stitch. I folded over my burlap as I went. This is the easiest way to get a ruffled burlap appearance. You could also swap out the burlap for any other festive Riley Blake Fabric. There are many to choose from.
Next I added my wooden letters and spiders.
I traced my letters and cut them out. I used Elmer's Glue to attach my scrapbook paper to my letters. Next, I used hot glued to attach my letters and spider.
Cut off any extra thread from your ruffle and then you're done.
Now hang that wreath and enjoy!
Thanks so much for having me and letting me share a simple tutorial with you today.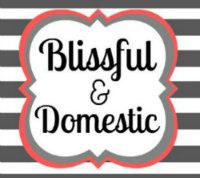 ---
Thank you Danielle for showing us this adorable Ruffled Halloween Wreath! I love ruffles and this wreath is so easy that I think I will make one for Thanksgiving or Christmas! You can change up the fabric and use it for any season.
Check out The Ribbon Retreat's awesome selection of high quality fabric that is so beautiful and fun.
Over at Blissful and Domestic, Danielle loves to share how her family lives on $14,000 a year, how they meal plan, and cut their groceries in half. She also loves to share crafty/sewing tutorials, home-school activities, and recipes. Be sure to stop by and say hi and see everything she has!
If you are interested in sharing your crafts or bow making skills, we are searching for crafty contributors. If you're a craft blogger or bow maker who'd like to submit a tutorial of your own, visit our Project Submission Page to see all the details. We love all tutorials, and now especially love holiday ones! We make it worth your while! We love our contributors!
Have a great day! ~ Shirley, The Ribbon Retreat Blog Editor