Create an adorable Ruffled Table Runner perfect for any holiday or season using our easy tutorial.
---
Hi there! I am Danielle, from Blissful and Domestic. I am so glad to be here on The Ribbon Retreat again today. In the past I have showed you how to make a Gathered Pencil Skirt and Faux Roman Shades.
Today I am sharing a simple Ruffled Table Runner Tutorial.
For fabric, I used Little Black Dress from Moda and Costume Clubhouse from Riley Blake. Both of these beautiful lines are available at The Ribbon Retreat. They also carry everything you need to make this table runner.
I had 1/4 a yard of each fabric. You want to have at least 3 different fabrics in coordinating colors. These will be the panels in your table runner. My orange polka-dot fabric I saved for my ruffles.
I laid out all of the fabric. Each 1/4 yard was folded in half lengthwise. Then I laid out my panels.
Pin your panels together. When doing my first two panels, I sewed the raw edges together.
Then I pinned my third panel and sewed. Be sure to sew the third panel's raw edge to the fold of the middle panel.
Now that your three panels are sewn together, you can move onto your "ruffle fabric". *Remember to press your seams.*
Take your 1/4 yard of "ruffle fabric" and cut in half. Now you will have two pieces of "ruffle fabric" (picture on the left). Then I cut each of these pieces of fabric in half again lengthwise (picture on the right). I ended up with four strips of fabric.
Once you pin and sew your ruffles, you're finished!
Add a crafty candy corn vase for more Halloween fun!
Thanks so much for having me and letting me share a simple tutorial with you today.
Over at Blissful and Domestic I love to share how my family lives on $14,000 a year, how we meal plan, and cut our groceries in half. I also love to share crafty/sewing tutorials, home-school activities, and recipes. I would love for you to stop by and say hi. I love meeting new bloggy friends:)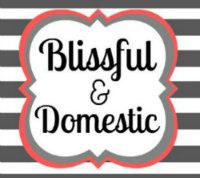 ---
Thanks Danielle!
I love this table runner! It is so beautiful and easy to do with the folded panels. I love that this table runner can be done for any season as well. You know it would be super festive with Christmas fabric!! Or what about Valentine's Day?
I love the fabric choices that Danielle chose for her table runner. The Ribbon Retreat has a huge selection of fabric that is all so gorgeous, it will be hard to choose!
And be sure to visit Blissful and Domestic to see what Danielle is all about! She has a wonderful blog with so much fun stuff. Be sure to follow along!
We are currently searching for crafty contributors so if you're a craft blogger or bow maker who'd like to submit a tutorial of your own, visit our Project Submission Page to see all the details. We love all tutorials, and now especially love holiday ones! We make it worth your while! We love our contributors!
Have a great day! ~ Shirley, The Ribbon Retreat Blog Editor