Hello, hello again from Sky at Capital B! Today I have a simple, fun all ribbon project for you. I've gotta be honest… I struggled a bit deciding what to do using only ribbon! I knew I could use other materials along with the ribbon to create something to share, but liked the challenge of not doing that too. After several failed attempts at other things, I decided to stick with something I love: pennant banners!
I love how a simple strand of ribbon can add so much to my decor. And I love the fun, different shapes a pennant banner can take on- much more than simple hanging triangles! Different clipped ends all strung together just have so much personality. 🙂
But, here's the thing… creating those fun shapes is actually not that easy. I know, I know, you'd think anyone could just clip a notch out of a piece of ribbon and call it good. And good for those who can… but I'm not one of them! My free-handed cuts simply are NOT straight or symmetrical. Sooo… I created some fun templates to place on the ends as a pattern to share with you!
Looks like just a weird jumble of shapes, right? I know! But, once you cut the black portions out and place them on top of your ribbons, it'll make sense. There are six different shapes, each sized at 3″ to use with The Ribbon Retreat's awesome
3″ grosgrain
– that stuff is the best EVER! The smaller ones are
1 1/2″
, a common size for all of the ribbon you'll find in the store. 🙂
Hopefully this picture makes a bit more sense and helps you see the different pennant possibilities the templates will give you.
CLICK HERE
to get to the sheet to print for free. 🙂
I made several banners at once and for all of them, I used one of The Ribbon Retreat's awesome
grab bags
, along with a few different colors of 3″ grosgrain. I can't even say enough good about the grab bags- they are
stuffed
full and have tons of different kinds of ribbons inside. Each piece is at least one yard long and many are significantly longer. ENDLESS possibilities that's what ribbon grab bags really are. 😉
Anyhow… back to the project at hand… I used just a piece of tape on the back side of each template to stick it on the ribbon before clipping.
Several of the ribbons I used in my banners were 7/8″, but I still was able to use the smaller templates to shape them. Once I'd cut, I just tweaked the outer edges a titch by sight.
Some of them are obviously simple enough that once one cut is made with the template, you can use the cut piece as a pattern for the next…
I hadn't thought of it originally, but was pretty stoked when I realized that some of these actually create TWO different styles.This shape above is my personal favorite, but I wasn't sure I really cared for it originally, after making the cut on the right. Once I flipped it and made the shape on the left, I wanted to cut more and more of them! See what I mean about having a hard time doing this free hand?! I could never have made that pretty flair on the end without a pattern.
To create a full banner, I started by picking out several ribbons of the colors I was going for. This one above was intended for my Valentines Day mantle.
I chose a specific shape template for each style of ribbon and cut several of each one at the same time.
With all my cuts made, I decided how I wanted the ribbons to be lined out and which would be my strip to hold it all together. Obviously my method is really orderly, but truly- anything goes!
I stacked them all up and went to the sewing table (the fun part, really)!
I sewed in one continuous stitch, adding pieces to the back side as I went… so, so easy. I used contrasting thread cause I kinda like the look, but by all means- whatever you like!
All done! But not all alone for long…
I love the pizzazz that this shaped pennant banner adds! (Maybe not so much on the speaker wires my hubby's got strung across my mantle- boo!)
Of course I couldn't stop at one and kept going… I love a rainbow of colors together and my ribbon grab bag honestly had more than one choice of each to choose from. These add so much life to my beat up old piano (and I do mean old… like 1901 or something like that- it looks so rough!).
But also so HAPPY! The simplest little details just make this easy project special. And totally doable for anyone!
Enjoy and thanks again to The Ribbon Retreat for having me today!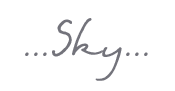 ---
Two of my favorite things all wrapped up into one amazing and easy peasy project….ribbon and banners! This simple banner would look fantastic in any ribbon combination for holidays and all other special and everyday occurrences.
Thank you Sky for this fun project and for your incredible talent. To see more of Sky's innovative projects, visit her at Capital B.
Have you been over to our Bows Show-N-Tell Link Party? There is some major, major bow business happening right now. Come and see some incredible bows….and, while you are there link up some of your own bow creations. There are 8 wonderful prizes up for grabs, and I would love to give you one of them. Tell your mamas, sisters, and all of your friends.
Happy Creating & Happy Banners!