Today is the letter "Y's" turn to get creative and crafty too, because it is "Y" day! What is the first thing you think of when you think of the letter "Y"? Lisa from Mabey She Made It came up with lots of creative words that start with "Y" in her adorable…ADORABLE and super sweet A-Z project that is all about a yellow dress with a gorgeous little yo-yo flower headband. This little dress is so precious and sweet, just like the little model wearing it! Enjoy!

Good morning! I'm Lisa from Mabey She Made It, a DIY, craft, and sewing blog. I'm so excited to be part of the A-Z series–can you believe how many talented ladies have shared already? And since I'm sharing a Y project, tomorrow's the last day of the tour. When I got the letter "Y" of course "yellow" came to mind. I tried to think of some other "Y" things, and came up with yard, yoke, and yo-yo. So with under a yard of fabric, you can create this super cute yellow-yoked dress with a yo-yo headband.

I started with a simple dress pattern, then after creating the yoke, I added the ribbon around the bodice before attaching the skirt so that the stitching was in between the outside and the bodice lining.

I also opted for button loops instead of buttonholes.

I love the way the daisy fabric has an ombre effect, so I put the bigger flowers toward the bottom for visual weight and paired it with the tiny daisy dot fabric on the top.

To finish off the dress, I added a sweet little yo-yo headband. Have you ever made a yo-yo before? They're pretty simple.

Here's how I did it.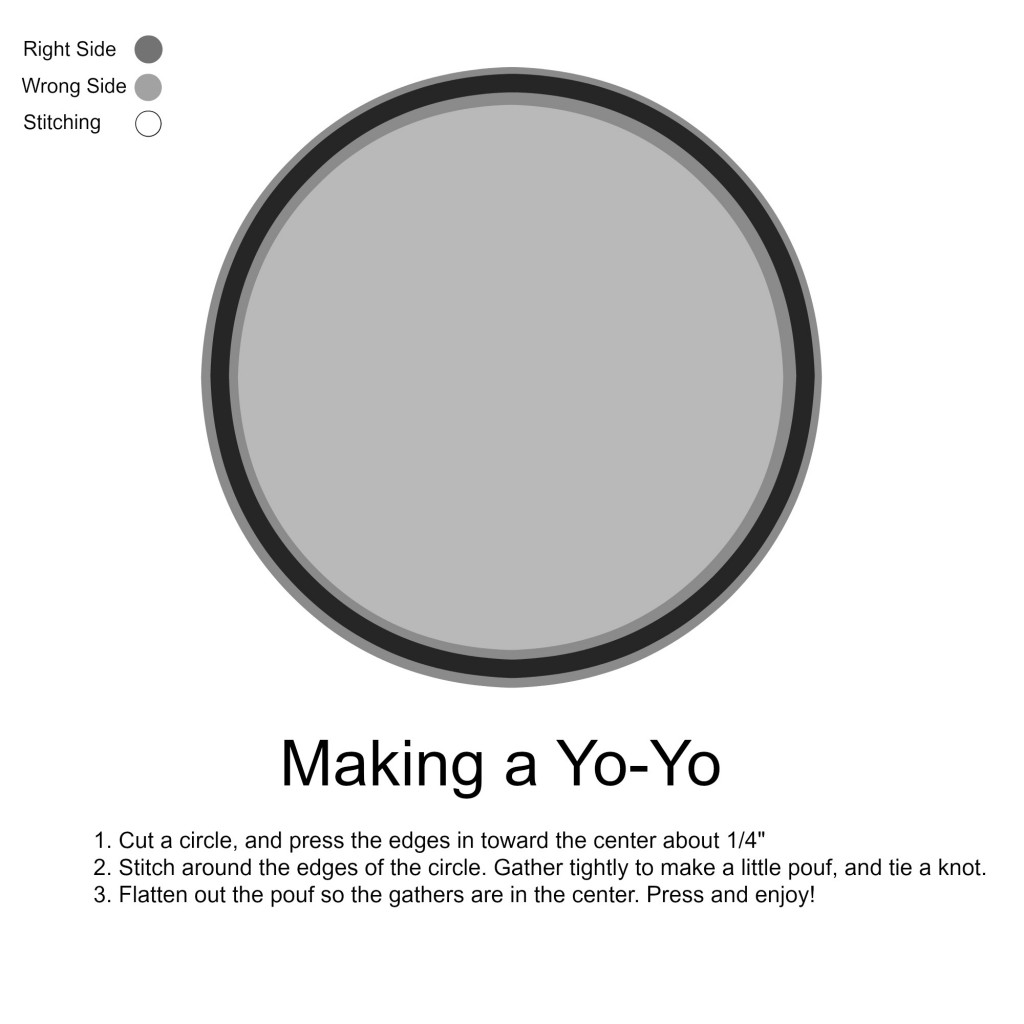 The Ribbon Retreat offers a cool little Yo-Yo Maker, which would make it even easier. 🙂 I made two yo-yos (one slightly bigger than the other) then stacked them on top of each other and sewed them onto a simple headband of fold over elastic. Then I put it on this cute little head.

Thanks so much for letting me be part of this series, and I hope you enjoyed the letter "Y".
---
Thank you Lisa for sharing this precious little dress and headband with us today! You most definitely get an A+ on your homework assignment! For more incredible and innovative projects by this lovely lady, make sure to visit her blog at Mabey She Made It.
On of my favorite things about having a sweet baby girl was dressing her up in a dreamy little dress with a matching headband, tights and itty bitty shoes. She looked so yummy…I just couldn't get enough of her! Now, she gets a little on the angry side when I put dresses on her and maybe even growls a little. However, when I slip her John Deere boots (hand me downs from her two older brothers) with the John Deere green tops and all, on her chubby little feet, the smile comes out and she is ready to conquer the world! Hehe…I think I have a future Tom Boy on my hands. Whether you have a princess or a hopeful Tom Boy, here are a few more dreamy dresses that your little sweetie will look deeeelicous in!

Do you prefer dresses or skirts for your little bundle of joy?


Happy Creating & Happy Letter "Y" Day!